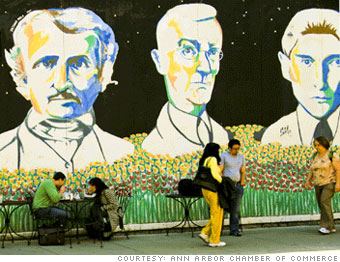 Population:
119,016
Pros:
Strong high-tech industry, eco-minded area, abundant college sports
Con:
Struggling state economy
The "college town" image is embraced in Ann Arbor, where the University of Michigan is considered by business leaders and entrepreneurs to be the engine of the city. Though located in an area suffering what's been called a "one-state depression," the educated workers and steady stream of startups coming from UM have helped Ann Arbor weather Michigan's economic decline.
The city's strong suit is its high-tech industry, which receives significant support from a private-public partnership called Ann Arbor Spark. A statewide Pre-Seed Capital Fund targets tech companies in four fields: advanced automotive, manufacturing, and materials; alternative energy; homeland security and defense; and life sciences. The fund invests up to $250,000 in promising ventures (which are required to match the fund's cash with their own) and takes an equity stake in return; the goal is to give promising ventures the cash needed to advance beyond the development stage.
Taxes are a bit of a sore spot throughout Michigan, but state officials aim to be responsive to business needs. A 'single business tax' (SBT) that behaved like a payroll tax did not sit well with the business community; as a result, it was repealed and replaced at the start of 2008 by the Michigan Business Tax. The new tax, based on business income and gross receipts, offers a number of credits to help companies reduce their tax bite.
The cost of living in Ann Arbor is high for the region, but in return the city offers a number of attractive amenities for residents, including a vibrant arts scene, award-winning restaurants, easy access to Northern Michigan's freshwater lakes, and highly ranked college sports teams. -Brandi Stewart
Editor's note: An earlier version of this story incorrectly referred to the Single Business Tax as still in effect. FSB regrets the error.
Interactive map: Ann Arbor


Find homes for sale in Ann Arbor


NEXT: 43. Blacksburg, Va.

Last updated July 02 2008: 11:16 AM ET
Email
|
Print
|

Digg this story
|

RSS