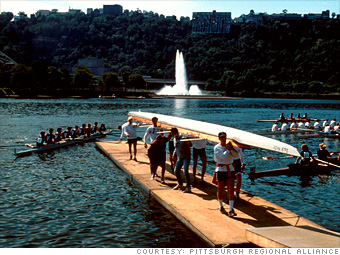 Population:
320,335
Pros:
Top-ranked research universities, affordable homes
Cons:
Sub-par public schools, urban ills like crime
Over the past decade, Pittsburgh has swapped its smoke-belching steel mills for greener ventures like biotech, electro-optics, and light industrial enterprises. Help for business development is plentiful. Investment organization Innovation Works, entrepreneurial infrastructure support group Idea Foundry, and the small business development center at the University of Pittsburgh are among the resources available to entrepreneurs. Pittsburgh offers startups an array of municipal loans, tax credits, and even a few actual outright grants, such as those administered by the "Kick Start Partnerships" program.
Opportunities exist in the data storage and financial industries, as well as in servicing the major universities in the city, like Carnegie-Mellon and the University of Pittsburgh's medical campus, a healthcare and cancer research institution. Urban amenities like first-rate museums and a lively music and arts scene are abundant - and if you like golf, championship fairways are just a fifteen minute drive from downtown. -Lisa Palmer
Interactive map: Pittsburgh


Find homes for sale in Pittsburgh


NEXT: 61. Northport, N.Y.

Last updated July 02 2008: 11:16 AM ET
Email
|
Print
|

Digg this story
|

RSS