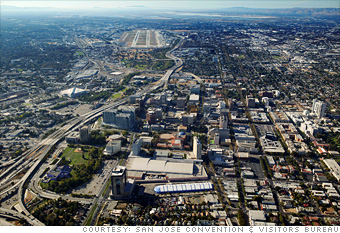 Population:
895,535
Pro:
Internationally renowned tech hot spot
Con:
High cost of living
San Jose's first wave of dot-com glory days may be over, but the city remains world-renowned for its tech presence.
More than 6,000 tech companies make their home in the city, including Cisco Systems, Adobe, and eBay, and new businesses keep coming. One reason: San Jose embraces new businesses with a multitude of incentives. A 10-square-mile enterprise zone in the heart of Silicon Valley offers firms considerable tax breaks, from an 8.25% credit on state income tax for manufacturing equipment costs to a tax deduction on the net interest on loans. Eligible small businesses may also earn a 50% reduction on the excise taxes levied on new construction or renovation projects.
The other reason entrepreneurs stay in San Jose is simply that it's a nice place to live. Locals have in their backyard a range of museums, parks, and theaters; a revitalized downtown features fine restaurants and boutiques. Best of all, the mild climate boasts 300 sunny days a year - perfect for a round of golf on one of the city's many courses or a stroll through a nearby winery. -Peter McDougall
Interactive map: San Jose


Find homes for sale in San Jose


NEXT: 67. Honolulu

Last updated July 02 2008: 11:16 AM ET
Email
|
Print
|

Digg this story
|

RSS