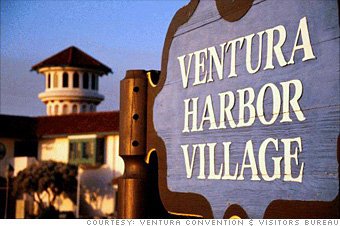 Population:
108,143
Pro:
Tech business incentives
Con:
Traffic
Ventura has long played launching pad to indie makers of active wear, including Patagonia, the green-before-it-was-cool active apparel company. But recently, officials in this Southern California beach town have been seeking to add high-tech firms to its surf and ski shops, particularly along Highway 101. To do so, they've created a tech incubator and partnered up with venture capitalists to seek out promising firms. Eligible manufacturers may also find support in the form of industrial-development bonds and low-interest loans. Nearby, the Port of Hueneme, the only deep-water port between San Francisco and Los Angeles, helps attract firms interested in international trade.
Other factors may help move tech to the economy's forefront: Hollingsead International, the airline products provider, relocated to Ventura a couple of years ago from Santa Barbara (where the median home price in 2006, the latest figures available, has skyrocketed to $999,000, compared to $540,000 in Ventura). More moves like that could eventually help attract new talent to the area - and bolster the skilled labor pool already supplied by nearby the University of California-Santa Barbara and California State University at Northbridge campuses.
The outdoor paradise that inspired Ventura's earliest businesses, however, hasn't changed: outdoorsy types will still brave traffic to enjoy the wealth of surfable beaches, bike trails, skateboard parks, and scenic golf courses in the area. -Kelsey Abbott
Interactive map: Ventura, Calif.


Find homes for sale in Ventura, Calif.


NEXT: 69. Danville, Calif.

Last updated July 02 2008: 11:16 AM ET
Email
|
Print
|

Digg this story
|

RSS