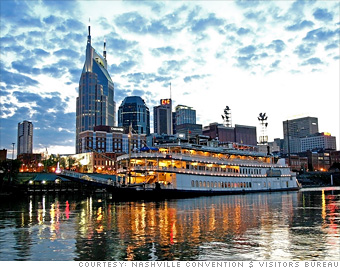 Population:
547,983
Pros:
Great music scene, diversified economy
Cons:
Suburban sprawl clogs roads, taxes services
Nashville may be best known for country music, but today the metro area bustles with entrepreneurial energy. Large local firms such as HCA Inc., Nissan North America and CareMark feed the small business frenzy: According to the nonprofit Nashville Healthcare Council, HCA alone has spun of at least 100 small endeavors related to medicine and management.
Tennessee is business friendly, having no income tax on wages, and the costs of property and doing business are cheap. One red flag: Suburban sprawl is leading to over-crowded roads and schools. It's easy to see why so many want to put down roots in Nashville: Lifestyle amenities go far beyond the country music honkytonks of yesteryear, and the local college scene is strong. Overall, the city retains a down-home, churchy feel. -Peter Galuszka
Interactive map: Nashville


Find homes for sale in Nashville


NEXT: 80. Rochester, N.Y.

Last updated July 02 2008: 11:16 AM ET
Email
|
Print
|

Digg this story
|

RSS