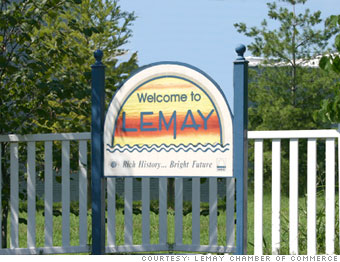 Population:
16,524
Pros:
New casino, excellent resources for entrepreneurs
Con:
Local business community still small
Until recently, Lemay's older population and aging infrastructure made it a rather sleepy place to live and launch. But over the next few years, the community is going to wake up: Pinnacle Casinos chose the site for its $450 million River City Casino, which is expected to create more than 1,000 new jobs when it opens in 2009.
Lemay already boasts a 20,000 square foot startup incubator, a supportive county economic council, and a strategic location on the Mississippi River. The local economy is currently dominated by small manufacturers, but the influx of tourists should stimulate the retail and service sectors. -Mina Kimes
Interactive map: Lemay, Mo.


Find homes for sale in Lemay, Mo.


NEXT: 86. Huntsville, Ala.

Last updated July 02 2008: 11:16 AM ET
Email
|
Print
|

Digg this story
|

RSS