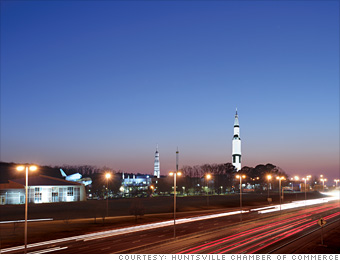 Population:
167,345
Pro:
Strong engineering and technology hub
Con:
Hours away from other urban areas
Huntsville transformed from a sleepy North Alabama agricultural town to a space-age destination just after World War II. Now a NASA hub, the city is a lively place for engineering and tech startups. Boeing and Toyota have branch offices here, and the workforce is well educated. The area's Cummings Research Park is the second largest research park in the country; and of special note is the-soon-to-be-opened HudsonAlpha Institute for Biotechnologies, a $135 million project partly owned by the State of Alabama that will assist a dozen companies involved in synthetic DNA research.
There's no need to earn a lot to live comfortably here. The median home price comes in at $145,000, and commercial property prices run at around $20 a square foot. The biggest drawback: it's remote. You have to drive four hours before reaching Atlanta, and almost two hours for Birmingham. But there's plenty to enjoy right in town if you like the outdoors. The city boasts 1,879 acres of park space (including a botanical garden), bike trails, and golf courses. There's also an art museum, orchestra, and live theater. -Peter Galuszka
Interactive map: Huntsville, Ala.


Find homes for sale in Huntsville, Ala.


NEXT: 87. Bend, Ore.

Last updated July 02 2008: 11:16 AM ET
Email
|
Print
|

Digg this story
|

RSS