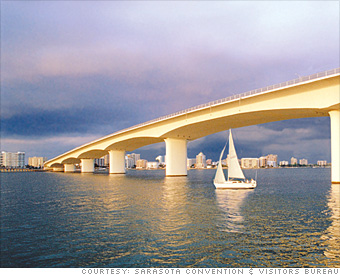 Population:
55,241
Pros:
Great weather and cultural climate; strong retirement and tourism market
Con:
Real estate downturn has hurt related small businesses
Retirees and the arts dominate this stretch of the Florida West Coast, known for fantastic sunsets over the Gulf of Mexico. As in much of Florida, the local economy has taken a big hit from the widespread real estate downturn. Small businesses related to construction or real-estate services are in the tank, although others in broader-based services such as health care and finance continue to do well.
An active SCORE chapter is helping small business owners weather the storm by providing contacts and advice on financing. What keeps hope alive is tourism, which is still running strong and drawing foreign visitors. Local amenities such as the Florida West Coast Symphony and the Sarasota Music Festival should help anchor a rebound when real estate bounces back. -Peter Galuszka
Interactive map: Sarasota, Fla.


Find homes for sale in Sarasota, Fla.


NEXT: 91. Ames, Iowa

Last updated July 02 2008: 11:16 AM ET
Email
|
Print
|

Digg this story
|

RSS