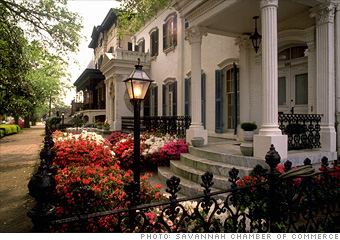 Population:
129,333
Pros:
Beautiful landscape, large port, active business community
Con:
Increased traffic
If active business organizations, beautiful European architecture and a network of rivers and creeks sound like appealing amenities, Savannah may be the city for you. Located at the mouth of the Savannah River, this picturesque Southern town is home to one of the country's most active ports, making it a great location for businesses involved in or needing access to shipping services.
Savannah's maximum corporate income tax rate has stayed at the same rate, 6%, since 1969. Incentives for job creation in the city's leading industries - tourism, hospitality, manufacturing, and technology - are available through the Savannah Economic Development Authority, along with a few unique offerings, such as tax credits for small businesses that experience rapid growth over three consecutive years, and utility rate discounts for new companies that create at least 10 jobs or invest $1,000,000 in property. The Creative Coast Initiative - a joint venture between the city, Chatham county, and local tech leaders - is actively pushing to keep state representatives aware of the funding and service needs of smaller startups.
Population and visitation growth have made Savannah more congested in recent years, but a quick escape to a luxury beach resort on nearby island Hilton Head should be enough to soothe a stressed soul. -Brandi Stewart
Interactive map: Savannah


Find homes for sale in Savannah


NEXT: 100: Colchester, Vt.

Last updated July 02 2008: 11:16 AM ET
Email
|
Print
|

Digg this story
|

RSS