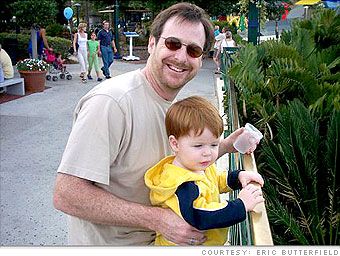 Eric with his son, Thomas
Database marketing manager, 41, Decatur, Ga.
My wife and I both graduated from college in 1991, during a big recession, so we are very familiar with the difficulties of keeping or finding jobs in hard times. We learned a lot from that experience, so we have done what we can to position ourselves for the next (current?) recession.In 1999, we bought an old and small house that required a lot of improvements and more space. Over the last several years we have done some major renovations and additions, and have achieved our goal of doing it all without taking loans. We purchased our reasonably priced cars outright, pay our credit card balances each month and have several months of savings to rely on if one or both of us lose our jobs. We are fortunate that our only debt is the house, and that we both have good paying jobs.This is all good, but I lose sleep at night thinking about how quickly it can turn. What if one of us is injured? Medical bills skyrocket hourly. What if the foundation on our house sinks? There goes our savings. What if the drought in the southeast continues? You can't sell a house in a city where there's no water. What if one of my children needs heart surgery to fix a defect? Insurance only goes so far.
NEXT: Eric Isenbarger: Planning pays off