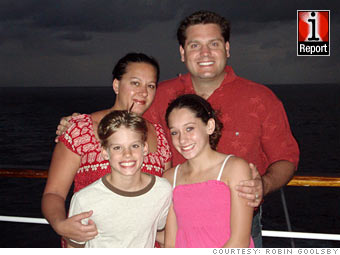 Robin with his wife, Kristal; son, Ethan; and daughter, Sierra
Technology consultant, 33, Greenville, S.C.
Prices are definitely higher, but we are still doing okay. I work from home, so I don't worry about gas prices; however, I still cringe when I fill my SUV up once a week. I work as an IT consultant and have a number of large-sized companies as clients. I haven't noticed an impact of the slowing economy yet, and I hope that I don't. Companies that I do business with are still buying technology. The company I work for has seen a slowdown in certain sectors, but spending in other sectors has increased. The housing market hasn't taken a severe beating here. Prices are reasonable, and we have a very strong and growing local economy. Gas prices have gone up about 20 cents in the last two months, but I still see plenty of people eating out and spending money.
NEXT: Sharon Urban: Newlyweds tough it out