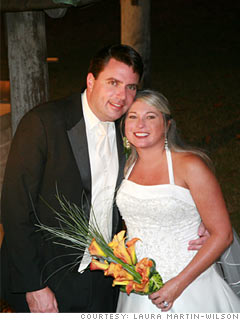 Laura with her husband, Michael
Director of account services, 39, Parrish, Fla.
I sold my house in Atlanta (at a small loss) in 2006 to move to Sarasota for a new position. In the process, I met and married my husband. He works in Tampa, and since my job was in Sarasota, we bought a brand new house halfway in between. While the cost of living in Florida is much higher than in Atlanta, we were making a comfortable living and were able to pay the bills with no problem. Until January -- when I lost my job. As this is being written, I am awaiting the payout on my 401(k) - what remains after taking the 10% down payment for our house. After night after night of tossing and turning, it seems to be the only solution to paying the bills, and hopefully not having to foreclose on our home. I am sending resumes daily, and am even looking in other states for a job. In our part of Florida, the job market is practically non-existent. I am 39 years old and have managed to maintain great credit. I feel like I may be going into a downward spiral, beginning with the distribution of my 401(k).
NEXT: David Murphy: Mortgage payment horror