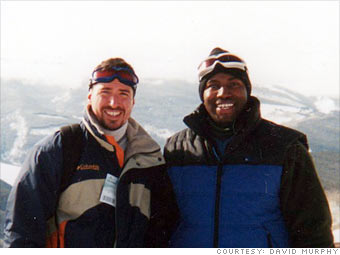 David (left) with his partner, Sean
Toy designer, 42, Alhambra, Calif.
I got an adjustable-rate mortgage for a home I purchased when I moved to the Los Angeles area. I've been struggling to refinance since April of last year, before the rate adjusted, and the lenders have been nothing short of apathetic -- giving multiple reasons why I couldn't refinance. I have a steady, good salary and my credit was very good. But excuses ranged from not good enough credit to too much debt. Then, the payments jumped up $1,000 in a month and everything headed south. The loan officer I was working with got a refinance for my second mortgage with cash out for home equity so I would have enough to pay the mortgage while a late payment came off my credit history. This was back in October and I've still been struggling to get a lender. It's now nearly a year later. The equity loan is nearly gone, eaten up by the ridiculously high mortgage, and lenders are STILL dragging their feet.
NEXT: Ruthnie Angrand: Debts piling up