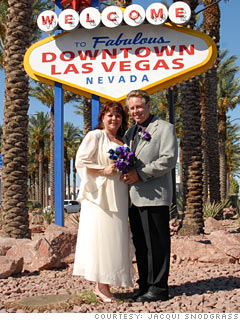 Jacqui with her husband, Howard
News director, 47, Rancho Cordova, Calif.
My family is feeling the economic pinch. I lost a good paying job last October. Fortunately for us, we live in a modest 1,100 square foot home that we can afford. When my husband and I were married in 2006, we were going to sell my husband's home for a bigger, more expensive house. What we were going to buy we could afford with my income at the time, but our payment would have more than doubled, maybe even tripled. I am in my late 40s and am struggling to find work. It's been tough. My 18-year-old daughter, who lives at home, and my 21-year-old stepdaughter, who is about to move in with us, both work part time and that helps take some financial pressure off us. But I got to tell you, if we hadn't made the decision to stay in the humble home, due to my husband's logical thinking, then we would be losing our home right now.
NEXT: Christie Loeslein: Family of 7 copes