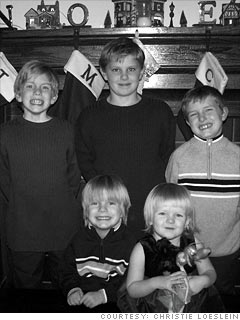 The Loeslein children: Matty and Emma Grace (front row); Joshua, Tanner and Cameron (back row)
Recordkeeping specialist, 33, Erie, Pa.
My husband and I moved our family of seven to Erie, Penn., from Atlanta, Ga., so he could pursue his chiropractic career. We bought a house in Erie before selling the one we own in Atlanta but we felt it would be the right choice. Had we known that the market was going to crash this badly and the economy was going to go downhill so quickly, we may have waited until our house sold. With two mortgages, two car payments, private school tuition (due to the district we live in) and now having myself as the only source of income, things are more than tough. Between deciding which bills should be paid first, how to grocery shop for seven without breaking the bank and trying to reduce the gas we put in our cars, we are very stressed and tired. We do thank God that we and our children are healthy and that may be as good as it gets. We made decisions we felt were best at the time and just continue to do the best we can with our situation.
NEXT: Susan Wilson: Shock fall in home value