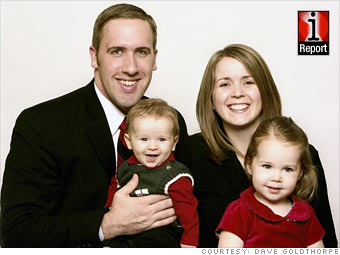 Dave with his son, Davis; wife, Jennifer; and daughter, Emma
Graduate student, 26, Salem, Ore.
I am currently a graduate student in Oregon balancing time between school, work and family. Being away from the place we call home, my family enjoys traveling to see grandparents, siblings, cousins, etc. With the price of oil climbing higher and higher, we can't afford to travel over spring break this year. This has a domino effect: Now we will not book a hotel, not eat out that week, not go shopping with family, and not "invest" in all the interstate markets for tourism along the way. To get down to it, we can't afford to drive OR fly, and because of that we don't spend in other ways as well. That's good for my savings account, but bad for the economy AND MORE IMPORTANTLY, my family's enjoyment of time and quality of life.
NEXT: Jim Laman: May lose it all