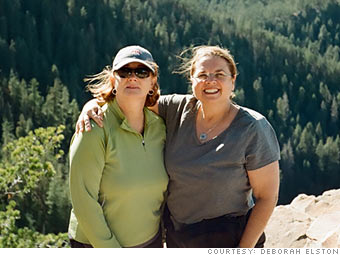 Deborah (right) with her partner, Mary
Sales support representative, 49, Chicago, Ill.
In November 2007, I quit my $50,000 a year job at a mortgage company in Chicago after years of unhappiness. I saved my money for months in preparation for my departure and planned to take some time off to reinvigorate myself. I figured I could always fall back on work as a temporary administrative assistant or executive assistant for some extra cash as I had done many months and years before in between the many layoffs I have experienced. Unfortunately, this has not been the case. I am signed up with five temp agencies and have hardly worked in two months. What has shocked me most are the hourly pay rates -- they have not gone up since I last temped eight years ago!Our saving grace is that my partner has a job at a university and though her salary is not enough for the two of us to live on, what the university does have is fantastic domestic partner benefits and I am fully covered for health, dental and vision on her plan. I wake up thankful for this every day. We have stopped dining out, attending cultural events and traveling. We have had to put our health club membership on hold. Our car is paid for. We have had to rely on our credit cards a lot more now, but we have never missed a payment or been late. My partner has student loan payments. We stay at home more because whenever you leave your house, you inevitably spend money.
NEXT: Jack Ross: Banks balked at lending