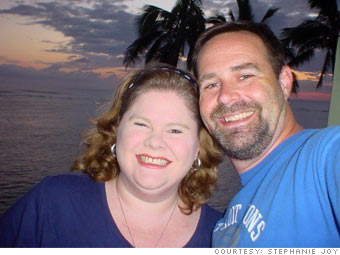 Stephanie with her husband, Jason
Student services coordinator, 35, Palm Bay, Fla.
Living in Brevard County, Fla., we can't help but notice the effects of the housing crisis. Both my husband and I are employed full time, but with Jason working for a Melbourne-based homebuilder, we sometimes feel as if we are walking a financial tightrope, wondering if and when the housing market will rebound. Brevard County was hit hard by the bursting of the housing bubble. Prices went too high, too fast and people got greedy, thinking they could make a huge profit and never thinking about the ramifications. My husband and I bought our modest house in 2003, have a fixed-rate 15-year mortgage and we count our blessings. We made smart financial decisions and although we are feeling the pinch due to rising gas, food and energy costs, we know that this too will pass. We just have to tighten our belts and stick to our financial plan. I feel sorry for those who are less fortunate who are seeing their dreams and aspirations slip through their hands.
NEXT: Don Horton: 401(k) raided