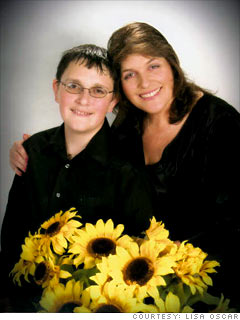 Lisa with her son, Jeremy
Truck driver, 41, Kingman, Ariz.
Last August I moved from New Orleans, LA to Kingman AZ to live by my aging parents. I had a decent job in New Orleans but was living in a Fema trailer and had been for two years and had to move out of it for medical and other reasons - such as the cost of living. It was outrageous, especially for me being a single mom. I came to Arizona in August of '07. It's now February of '08 and I've gone through half my savings. I have been trying to find a job. Since I got here I've given out resumes all over. I am a truck driver and there are no jobs here - no jobs anywhere in this area for me.I really don't want to go back to New Orleans 'cause i want to stay near my aging parents but it's getting desperate. I have no medical coverage for me or my son so i take it day by day and if things don't get better I guess I will have to leave here.
NEXT: Suzzanne Cromwell: A $250 commute