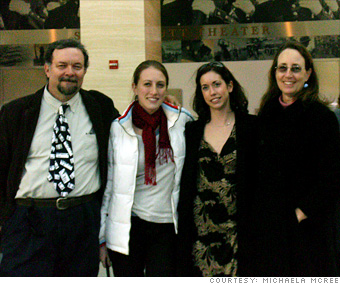 Michaela (second from left) with her dad, Christopher; sister-in-law, Kristen; and mom, Stacey
Student, 20, Chicago, Ill.
I'm a student at the University of Chicago, a Top 10 school. My parents are seriously considering selling our house, which they were planning to retire in, and living in an RV.As for me, I'm moving out of the dorms and into an apartment with some friends to save money, and instead of taking an internship in Washington, D.C. this summer like I had planned, I'm going to have to stay here in Chicago and work full-time to pay rent and save money for next year.I don't think I'll have to drop out of school, but that's definitely something I'm afraid of if this keeps getting worse, since we can't really afford tuition here even with the generous financial aid.
NEXT: Billie Romero: Pocketbook strain hits home