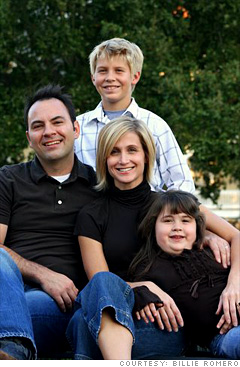 Billie with her husband, Roddie; son, Luke; and daughter, Emma
Nurse, 32, Lafayette, La.
I work as a nurse. My husband is a truck driver/musician. We have two kids we are TRYING to keep in private school. [Like] most working couples, we want the best education for our children, because not just "the rich" deserve private school. We want to be able to buy a home AND pay the bills. How do you do that when the price of everything is rising except your pay? What do you do?We don't own a house. We are about to lose our vehicle. Financial strain is hard on a marriage and we wonder why the divorce rate is on the rise. I know mine is strained and 98% of that strain has to do with money (lack of).
NEXT: Terri Regar: Living paycheck to paycheck