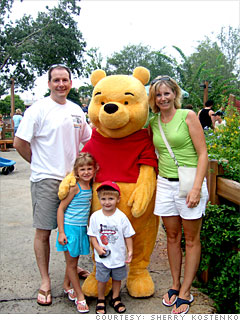 Sherry with her husband, Victor; daughter, Lauren; and son, Nolan
Stay-at-home mom, 40, Apopka, Fla.
We bought a home in Orlando, Fla., in February 2005, the height of the boom here. At the time, we could afford the home, the taxes and the insurance. It would be tight but we kept planning on "the bonus" or "the raise." We got all caught up in the "square footage" of the home. Well, what we didn't realize was that with our BIG HOUSE comes BIG EVERYTHING! Big taxes, big insurance, big water bills, big electric bills. The anxiety at the end of the month caused health problems for both my husband, Victor, and I.Last summer, we realized that we could not live like this any longer. We could not afford our home, we were prisoners of our mortgage. We couldn't enjoy life outside the house. We were literally trapped. We decided to "downsize" our life, our lifestyle and our home. It was a lot of soul searching but we both realized that it's not all about "square footage" or bedrooms or full baths. It's about being able to afford a mortgage (and all the add-ons) and still have money at the end of the month. Now, our timing could not be worse of course, for putting the big house on the market. We built a much smaller house, ranch style and I love it! My first electric bill was a third of what it used to be. Yes, we still have the big house, but we were able to rent it out and cover expenses. We are not making a dime on the rental, and when the market comes back, we will put it back up to sell. We wiped out Victor's 401(k) to pay off debt and put a down payment on the new house. We have established a savings account and there is actually money left over at the end of the month....whew!
NEXT: Jason Miller: Gas prices curb profits