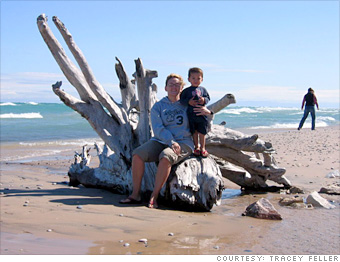 Tracey with her son, Darian
Purchasing analyst, 37, Brundidge, Ala.
I accepted a job in February 2007 that required relocation so we packed up and moved to Alabama. We had not gone through this before. We purchased another home in Alabama and we were sure that our house in Three Rivers, MI would sell. Not the case. Not only could we not sell our Michigan house but my husband could not find work in Alabama. So we made the decision to have him go back to Michigan to work as a temp in September 2007. It's now March, our home in Michigan is set to got into foreclosure April 11 and we also fell behind on our home in Alabama, but were able to work out a repayment plan with the lender. At this point we are just trying to keep a roof over our heads and reliable transportation to get to work. We are looking at what's really important. Our love for each other has kept us from divorcing and our children, ages 17 and 4, are healthy. This is what is getting us through each day.
NEXT: RJ Hernandez: Subprime surprise