Across the nation, the deepening economic downturn is fueling anxiety among everyday folks. See what's got them worried and how they're coping.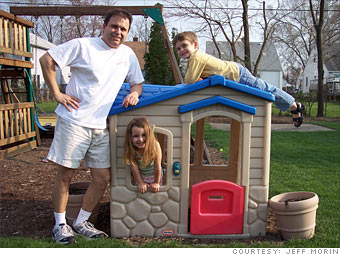 Jeff with his daughter, Sydney, and son, Alec
Engineering manager, 37, Lincoln Park, Mich.
Rising gas and food prices have forced us to change our lifestyle. But there is an upside. The kids and I spend more time at home doing the free things like playing games and going for walks. These types of activities create a much stronger bond with your child than going to the movies or sports game where you don't interact as much. When food shopping, we buy more fruits and veggies instead of prepared foods. It saves money and is healthier. We also cut back cable to just the basic stations. Again, the effect was less TV and more quality time. Spending less money also means doing less so there is more free time to do those free projects around the house. For example, cleaning out the garage, basement and closets of all the useless clutter. I've found many treasures that can be sold on Ebay or at a garage sale. The result is a cleaner, more organized home which in turn reduces stress and anxiety.
NEXT: Jennifer Yueill: Food costs sting