General Motors recently showed reporters and select members of the public what it plans to build over the next two years.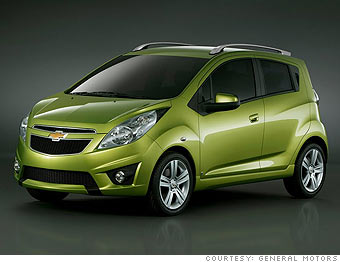 The Chevrolet Spark will go on sale next year. Soon after, a new version of the slightly larger Chevrolet Aveo will come out, too, with a similar design.
After revealing an eye-popping projected fuel economy figure for the Chevrolet Volt, General Motors took visiting journalists on a behind-the scenes tour of the carmaker's design studios for a look at its future product line-up.
There was just one rule: No photos could be taken. So the photos you see here are of upcoming products -- or ones just hitting showrooms now -- that have already been seen publicly.
The Volt is obviously the biggest news coming from Chevrolet, but an upcoming redesign of the popular Malibu will make plenty of news of its own. The current Malibu, named "Car of the Year" in 2008, has become an icon of GM's product turnaround.
Finally, here was a GM car with the performance, fuel economy and style to rival the Honda Accord and Toyota Camry.
The new Malibu will still be recognizable as the same car, but with sharper, more flowing lines. The back end of the car, in particular, is very different. The rear view on today's Malibu is bland, but the new version gets a BMW-like raised trunk lid with taillights that jut out at the corners.
"Our job is to make these vehicles look like $40,000 or $50,000 vehicles even though they're priced like Chevrolets," GM designer David Lyon said.
The trunk was designed to be bigger and easier to access in answer to customer complaints about the current car, a GM designer said. The car is almost imperceptibly larger, too, especially on the inside.
A Camaro convertible was also on display as proof that, yes, GM really is working on it.
A new Chevrolet Aveo small car was also on display right next to the sightly Spark subcompact. The new Aveo will look very much like a big brother to the Spark. Both, for instance, will have hidden rear door handles giving them a 2-door look.
NEXT: GMC