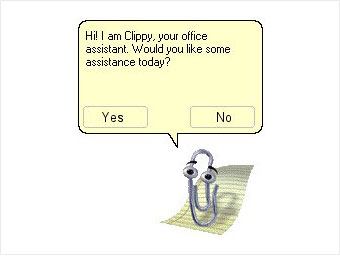 The despised talking paper clip is best known for interrupting virtually every task in Microsoft Office, but Clippy actually got his start in a much-forgotten version of Windows, Microsoft Bob.
In Bob, which debuted a few months before Windows 95, the animated assistant helped guide users through their computer tasks. Bob was a massive failure, but Clippy lived on to bug the hell out of everyone who ever wanted to type a letter using Microsoft Word.
In Office versions 97 and 2000, if a user typed, "Dear" at the beginning of a document, Clippy would appear in the bottom right corner of the screen with a text bubble that read, "It looks like you're writing a letter. Would you like help?"
Clippy would also interrupt countless other tasks, making the Office Assistant one of the most reviled Microsoft features ever.
Microsoft got the message loud and clear by the time of its Office XP release. In an online ad for Office XP, Microsoft staged a mock firing of Clippy, who said, "Know anyone who's hiring? Office XP works so easily that it's made Office Assistants like me useless. Obsolete. And, I'm told, hideously unattractive."
NEXT: Windows Me