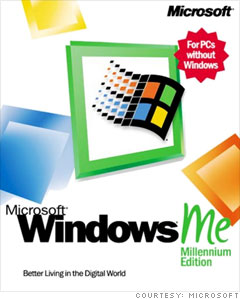 Windows Millennium Edition was Microsoft's flagship operating system for consumers for just 13 months ... too long, if you ask people who used it.
The operating system debuted in September 2000. Users reported problems upgrading their computers to Windows Me and when they were able to, Me frequently froze and crashed. There were numerous compatibility issues with hardware and software, and Me didn't always like to wake up from sleep mode.
Even the good features ended up screwing over Me users. For instance, Me debuted a new tool called System Restore that allowed people to bring back files they had accidentally deleted. But System Restore also brought back files that were purposefully deleted, like viruses that users definitely wanted to get rid of.
PC World
in 2006 named the 25 worst tech products of all time -- Windows Me was fourth. But keep in mind, that list came out one year before Vista was released.
"This might be the worst version of Windows ever released," the magazine said. "Forget Y2K; this was the real millennium bug."
NEXT: Windows Media Center works ... trust me