Bethesda, Md., residents pull in more than $170,000 a year. Which other places in our Best Places database have high incomes?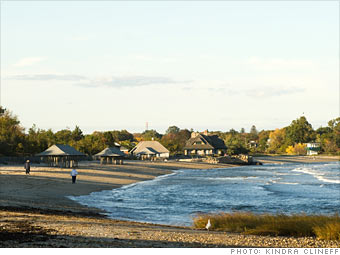 Population: 59,484
Median family income (per year): $164,807
Median home price: $997,498
This tony town is the epitome of coastal chic, with beaches and yacht clubs lining roughly 30 miles of shore. Wealthy residents enjoy lavish penthouse condos and multi-acre estates overlooking the Long Island Sound. Home prices soar into the millions of dollars.
But luxurious nests are only part of Greenwich's appeal. A well endowed arts scene includes the Greenwich Library, Bruce Museum, and two symphonies.

See complete data and interactive map for Greenwich

NEXT: Palo Alto, CA

Last updated July 14 2010: 11:43 AM ET