After a drawn out sales drought, sellers are ready to woo shoppers in 2010 with innovative new products and cool ways to sell them. Here is a sampling of what consumers can expect: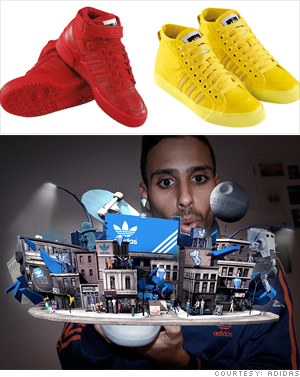 Sporting goods maker Adidas has unveiled a new limited-edition line of sneakers called the "Originals Augmented Reality Game Pack."
This isn't just any `ol sneaker. It actually doubles as a gaming device. So when you get tired off wearing it, just take it off and use the shoe as a controller.
"We were given a challenge a year ago to introduce a product that leverages technology to deliver specific lifestyle benefits to consumers," said Chris Barbour, head of digital marketing for Adidas "Originals" brand. "We we took a pair of our shoes and added a layer of `virtual' experience around it."
The Game Pack features five iconic Adidas "Originals" sneakers - the Superstar, Stan Smith, Forum, Nizza and Samba. Each sneaker has a barcode on the tongue of the shoe. When you hold the barcode in front of a computer web camera, it unlocks the 3D Adidas Originals neighborhood.
The sneaker then becomes a controller that you can use to play a series of interactive games in the virtual neighborhood. There's a laser blaster game, a skateboarding-themed game and a music-based game.
"We don't consider this a gimmick," said Barbour, hinting that Adidas plans to come out with more products, including an iPhone application and clothing that using similar technology.
"Innovation is critical in this economic environment. Consumers want more value in a product even if they don't want to pay more for it," he said. "What's really cool is these sneakers don't cost any more than they typically would have without the technology."
The sneakers are available in the United States at Champs Sports and on Eastbay.com with prices varying from $64.99 to $94.99.
NEXT: Pay for your "virtual goods" at 7-Eleven