This manufacturing town in central Indiana faced crippling unemployment. Now it is working again, thanks to the federal government.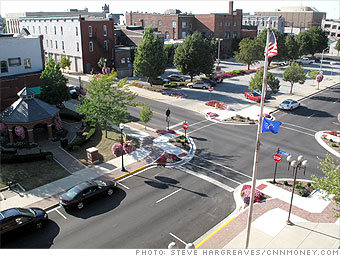 Kokomo Mayor Greg Goodnight, faced with a recession-decimated city budget, had to make some tough choices. Through attrition and layoffs, he ended up cutting about 10% of the city's staff.
But he didn't skimp on the downtown. Using stimulus money, the town revamped the walkways, added flowers and made all the parking free.
The moves, along with some attractive financing, have spurred the launch of 11 new businesses in Kokomo since the start of 2010.
NEXT: Old plant, new technology
Last updated October 18 2010: 7:22 AM ET