Cities like Detroit and Columbus boast killer buying opportunities, but you're better off renting in places like New York and Seattle, according to Trulia's quarterly Rent vs. Buy index.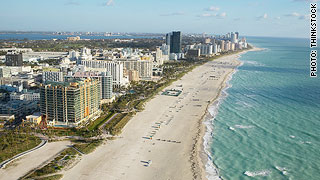 Average list price: $229,293
Average monthly rent : $2,165
Price to rent ratio: 8.83
Miami's high foreclosure rate and unemployment make it a great place to bargain hunt.
"Miami is an area where at the peak of the market, people were flying in from all over the world and spending lots of money buying and developing homes, and they delivered beautiful buildings," said Christian Tupper of Related Cervera Realty Services. "The prices at which they were sold originally were tremendously higher than they are now, so now someone who wants to buy has access to amazing properties."
Tupper said he's currently showing a 2-bedroom condo in a high-end building in downtown Miami that was selling for around $500,000 a couple years ago is now listed for $350,000.
NEXT: Manhattan: Rent
Last updated October 11 2010: 11:53 AM ET