An 80% pay cut - but it was worth it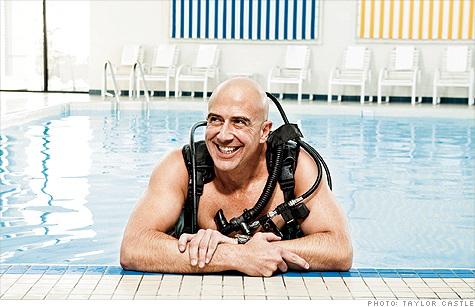 (Money Magazine) -- Then: Sold advertising
Now: Teaches scuba to people with disabilities
Watching his legally blind daughter ski for the first time back in 1989, Jim Elliott was inspired. "She glowed with confidence," he recalls. It motivated the proud dad -- then an ad exec for the Tribune Co. -- to consider a career change.
An experienced diver, Elliott began thinking about founding a nonprofit that would use scuba to build self-esteem in disabled children.
Over the next decade the idea nagged at him, but he was unsure how to proceed. Finally, in 2001, with his kids grown and a lawyer pal offering to help, Elliott took the plunge and started Diveheart.
Today 100 children a year dive via the Chicago charity. More people, including wounded veterans, benefit through six spinoffs he's advised.
Elliott, who's divorced, doesn't draw a salary; he nets just $25,000 a year teaching scuba on the side. Taking an 80% pay cut hasn't been easy, but he says it's worth it: "Seeing these kids' smiles is more powerful than you can imagine."
How he does it
1. By using his sales skills.
The power of persuasion that Elliott gained in ad sales helps him motivate donors and secure grants. As a result, the nonprofit's annual budget is now $150,000.
2. By pushing for PR.
In 2008 he invited Tammy Duckworth, a wounded Iraq vet who had just run for Congress, for a dive -- then alerted the media. The press won him donors and volunteers.
3. By accepting help.
Elliott lives rent-free courtesy of a Diveheart supporter. And when traveling for work, he carries a bedroll with him. "Someone always offers me a place to sleep," he says.

Have you recently been shopping for long-term care insurance? What factors went into your decision? Send an email to beth_braverman@moneymail.com and you could be featured in an upcoming story in Money Magazine.