Chrysler was king of the hill with its 300 series just a few years ago. Oh how the mighty have fallen.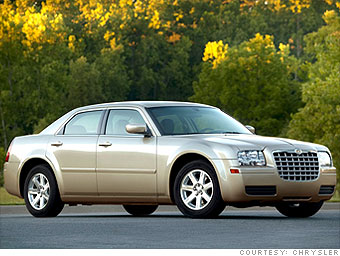 The 300C was a good, strong car. Unfortunately, only the eye-catching style carried into other products.
Chrysler's 1998 merger with Daimler-Benz bore promising fruit with the 2004 rebirth of the Hemi-powered Chrysler 300C.
With a dose of German engineering, Chrysler had seemingly rediscovered its founder's vision. Walter P. Chrysler had wanted his car company to offer investor class quality at working-man prices. With its Mercedes-based suspension and all-American Hemi engine under its boxy hood, the 300C performed with a power and alacrity that belied its relatively low cost.
In hindsight, the Dodge Magnum, introduced at the same time, should have provided a warning of bad things to come. The thuggish wagon was a big hit at first and it was, in most respects, every bit as good as the 300C.
But the interior lacked the 300C's stylishness. In fact, it lacked any apparent design at all. And the materials were rock hard and cheap feeling.
Chrysler LLC learned something with these two cars: Design sells. But what began as a selling point became, for Chrysler, a rickety crutch.
Under its new owners, Chrysler seems to be learning its lesson at last. But several models Chrysler has introduced over the last handful of years have eroded Americas trust and driven the company to the brink of bankruptcy.
NEXT: 2006 - Dodge Caliber