Tech competition is heating up: Google vs. Microsoft! Microsoft vs. Apple! Apple vs. Palm! Here's how the second half of '09 is shaping up.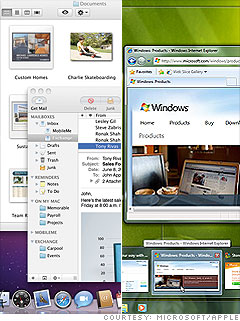 Sales of Apple's Mac OS X Leopard have been mostly solid so far this year. But Microsoft's Vista ... well, that's another story. A PC sales slump, combined with mostly negative reviews have led to disappointing sales of Microsoft's current Windows iteration.
But Microsoft thinks it found the cure to its operating system woes with Windows 7, set to debut Oct. 22 -- just in time for the holiday shopping season. Microsoft says Windows 7 is scaled back and faster than Vista, addressing users' complaints about sluggish speeds and unnecessary functions.
Meanwhile, Apple announced its new operating system, Snow Leopard, can perform some tasks up to 90% faster than the current Leopard OS. Apple said Snow Leopard, which will go on sale in September, is more crash resistant than its predecessor and is 6GB smaller.
What will the new competition mean for the OS sales wars? Probably very little. Last year, 94% of new PCs sold had Windows built in, compared with 3.3% with Mac OS. Gartner's prediction for 2009? Windows: 94.2%, Mac OS: 3.3%.
"Neither of the new OS's is revolutionary [but] Windows 7 is more vital to Microsoft than Snow Leopard is to Apple, because Microsoft has more to prove," said Michael Silver, OS analyst with Gartner.
NEXT: Google and Yahoo, meet Bing