Sure, it's expensive to buy the toys of the rich and famous. But buying them is just the start - once you have them they cost a small fortune to keep.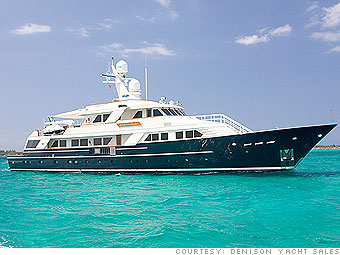 Purchase price:
$6,750,000
Yearly operating costs:
$1.025 million
This 127-foot used mega yacht can be picked up for $6.7 million, a relative bargain. But it could cost over $1 million a year to run, said Justin Onofrietti, the broker at Fort. Lauderdale, Fla.-based Denison Yacht Sales that's selling the ship.
While actual costs will vary depending on use and location, Onofrietti said the captain on a typical yacht could make $145,000 a year, with an additional $70,000 for the first mate, $55,000 for the cook and $35,000 for the stewardess.
Throw in another $180,000 a year for fuel, $240,000 in dock fees and $300,000 in insurance, and it's easy to see why this is a rich man's hobby.
NEXT: Private jet
Last updated August 23 2010: 10:00 AM ET