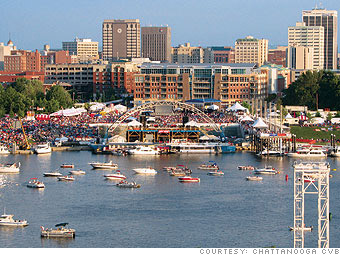 In Chattanooga, artists and creative entrepreneurs get a helping hand from CreateHere, a three-year-old nonprofit that fosters cultural and economic development in the city. The organization helps groom would-be owners with a leadership development fellowship, among other services.
An 8-week business training course called SpringBoard includes lessons on business planning and CEO peer round table discussion groups. Graduates have been responsible for creating at least 50 local jobs, said CreateHere co-founder Josh McManus.
A newer offering is The Company Lab, a shared office space that gives entrepreneurs both a work space and the ability to connect with other local business owners and resources.
The important part, McManus said, is building community. "We tried to continually stir the pot around entrepreneurship - to make it fashionable to be an entrepreneur in the city," he said. "And rather than leaning back on us like with many traditional economic development organizations, the folks in the class lean on each other."
NEXT: Littleton, Colo.
Last updated November 23 2010: 1:41 PM ET