After taking a whupping from its customers, the media and lawmakers over its 'unintended acceleration' recall crisis, Toyota is licking its wounds and getting back on the road.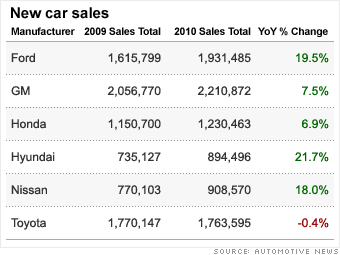 In 2010 Toyota's sales fell 0.4%, according to a report from Kelley Blue Book, making it the only loser in a rebounding auto industry.
One year ago, Toyota Motor Co. announced it was recalling many of its most popular models and shutting down factories to deal with defects that drivers said were causing cars to accelerate out of control.
Toyota's reputation got hammered. Rumors of mysterious electronic glitches swirled. The company announced a parade of recalls tied to floor mats and sticky gas pedals.
The carmaker was slammed for being slow to respond, culminating in Congressional hearings and massive fines.
Bad PR wasn't the only factor that hurt sales. An older lineup of models also played its part, Toyota and other experts say.
Besides sales, resale value, market share and perception of safety were also hit.
Today Toyota is fighting to recover and according to Kelley Blue Book's KBB.com it seems to be climbing back.
NEXT: Shrinking against the competition
Last updated January 18 2011: 3:29 PM ET