Investors under age 35 are shunning stocks in stunning numbers. Their biggest risk: dying broke.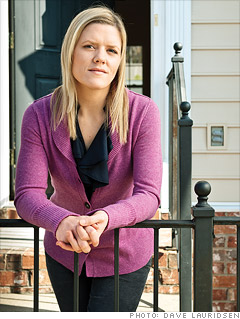 Caroline Chesnutt, 30, lives in Nashville.
Portfolio : 80% cash, 20% stocks
Since the crash the once-enthusiastic investor has gone from trading several times a month to shunning the market.
"I've learned when you invest in stocks, you have no control over the outcome," says Chesnutt, a nurse, who now keeps most of her money in two savings accounts, yielding 1.75% and 0.35%.
Instead of stocks, she's decided to try to make money by investing in her own sideline business, an embroidered-napkin company called Literary Linens that she runs with her sister.
She says, "I want to be in control of my financial destiny."
NEXT: Shawn and Asma Lakhani
Last updated January 03 2011: 4:52 PM ET