Las Vegas always wins the title for worst foreclosure rate in the country. But these 10 unexpected cities have the fastest-growing rates out of the 100 worst-hit places.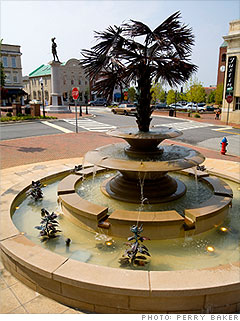 Population: 287,000
Foreclosure rate: One in 60 homes
Percent increase in 2010: 228%
Spartanburg is found in the upstate portion of South Carolina, the fastest-growing region in the state. But in the last year, it also had the country's fastest-growing foreclosure rate.
The 228% spike in foreclosure filings is the result of two converging trends, according to city manager Ed Memmott: Questionable mortgages used to buy homes -- especially investment homes -- during the boom; and job losses.
The unemployment rate hit 12.7% in 2009 before dropping to 10.9% in 2010 -- well above the national average. And, as many of those workers were laid off, they fell behind on their mortgage payments.
Still, the local economy seems to be on the rebound, with growth boosted by a BMW plant that arrived about 15 years ago and brought additional manufacturing jobs with it.
"Every month we see more announcements of hiring," said Memmott. "We've also seen an uptick in revenue aligned with retail sales, and that bodes well."
NEXT: Albuquerque, N.M.
Last updated February 01 2011: 7:22 PM ET