Microsoft Windows is by far the most widely used operating system in the world, but there were a few big bumps in the road on the way to global domination.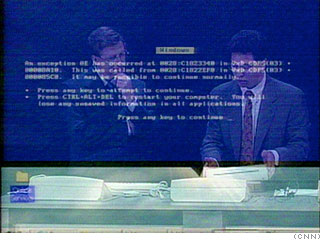 Windows 98 was designed to be "plug and play" ready, meaning users could simply plug devices like printers and scanners into their computers and use them right away, without installing any software.
But Microsoft's demonstration of that function at the Computer Dealers Exposition in Las Vegas on April 20, 1998, didn't go so smoothly.
When former Microsoft CEO Bill Gates and his assistant Chris Capossela plugged a scanner into the computer, instead of loading the scanner's software, the computer encountered a fatal error and displayed one of Windows' infamous "blue screens of death."
"Just plug it in," Capossela said. "It's going to say, 'Hey, I see you've plugged in a new device,' and it's going to load in the appropriate drivers. You'll notice that this scanner, Bill ... whoa."
The audience roared with laughter and applause. Even Gates began to laugh, eventually chiming in with, "That must be why we're not shipping Windows 98 yet."
CNN carried the event live, and the
YouTube clip
of the crash has been viewed 1.4 million times.
NEXT: Clippy