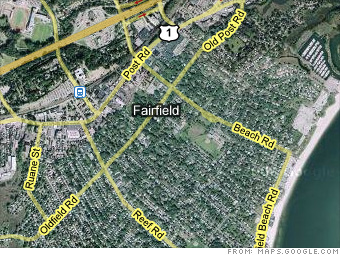 Population:
58,490
Pros:
Prosperous clientele; attractive beaches
Con:
High real-estate costs
Space doesn't come cheap in Fairfield, Conn.: Homes sell for a median price of $395,000, but that's still lessexpensive than the real estate from other towns in this metro hub, which includes some of the wealthiest north of New York City.
Fairfield's economic development office provides technical support and financial aid to new or expanding businesses with five or fewer employees. Thriving retail and service startups serve the city's moneyed residents (whose median family income is $100,920), so it's no wonder longtime successful industries include finance, insurance, and real estate. The development of a new commuter rail station and a commercial office space just off I-95 promise to create new business opportunities when it is complete in a few years. General Electric, a major employer in the area, and the city's two universities - Fairfield and Sacred Heart - provide a crop of skilled labor.
Fairfield is 50 miles from New York City and 25 miles from New Haven, where Yale University is located. But city itself also has lots to offer, including a classic New England downtown, with parades, concerts on the green, and independent shops; five miles of coastline on Long Island Sound, dotted with five town beaches; and a golf course that is among the best in the nation. -Lisa Palmer
Interactive map: Fairfield, Conn.


Find homes for sale in Fairfield, Conn.


NEXT: 65. State College, Pa.

Last updated July 02 2008: 11:16 AM ET
Email
|
Print
|

Digg this story
|

RSS