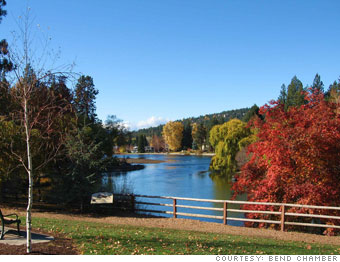 Population:
64,917
Pros:
Sunny and peaceful, pro-business tax environment
Cons:
More isolated than towns closer to the coast, few direct flights to major airport hubs
Bend began as a logging town, endured a bad slump in the 1980s, and has emerged with a diversified economy and a rapidly growing population. The dominant industry is tourism - many of the biggest companies are resorts and vendors that cater to the many skiing, beer-drinking, rock-climbing, fly-fishing, and rafting enthusiasts that visit the city's mountains, microbreweries, and neighboring Cascade Lakes.
Other industries include computer software and hardware, medical equipment, aerospace, and recreational-equipment manufacturing, in addition to a growing tech sector. These startups can benefit from Oregon's small-business friendly tax environment: The state aids startups by reducing property tax rates, worker compensation rates, income tax rates, and regulatory red tape. For green companies, there's also a business energy tax credit for 35% of eligible projects, aimed at encouraging conservation and recycling.
Unlike Oregon's coastal cities, Bend, which sits on the banks of the Deschutes River between the eastern slopes of the Cascade Mountains and the high desert, is bathed in sunshine all year long. All the better for the aforementioned extreme sports fans, as well as locals looking to enjoy the city's 71 parks and 48 miles of trail. -Elizabeth Bland and Mina Kimes
Interactive map: Bend, Ore.


Find homes for sale in Bend, Ore.


NEXT: 88. Brunswick, Maine

Last updated July 02 2008: 11:16 AM ET
Email
|
Print
|

Digg this story
|

RSS