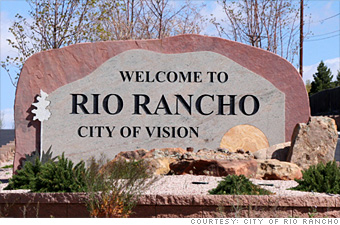 Population:
60,655
Pros:
Cheap land, spacious properties
Con:
Few urban amenities
Many of Albuquerque's suburbs are still bedroom communities, but Rio Rancho has emerged as a business center in its own right.
"It's the fastest growing city in the area," says Fred Mondragon, cabinet secretary for the New Mexico Economic Development Department. "The cost of doing business is cheaper there than it is in Albuquerque, so businesses are pouring in." Tech companies and call centers are sprouting rapidly in Rio Rancho's expansive business parks. But there's still room to be had - the city sits on over 73 square miles of land.

Fans of warm weather flock to Rio Rancho, which boasts average temperatures of about 70 degrees in the spring and fall, in addition to scenic mountain trails. Nearby Albuquerque and Santa Fe offer a wealth of cultural opportunities. But Rio Rancho has its own attractions, including the city's annual Pork & Brew BBQ State Championship, which draws thousands of spectators each year. -Mina Kimes

Interactive map: Rio Rancho, N.M.


Find homes for sale in Rio Rancho, N.M.


NEXT: 84. Cheyenne, Wyo.

Last updated July 02 2008: 11:16 AM ET
Email
|
Print
|

Digg this story
|

RSS