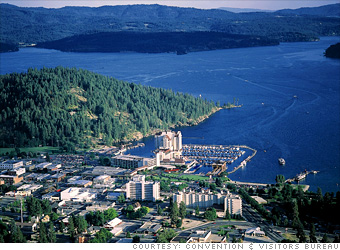 Population:
39,617
Pros:
Impressive population growth, great scenery
Con:
Tourism-dependent economy
Barbara Walters called Coeur d'Alene "a little slice of heaven," and others seem to agree. The city's population has grown by 25% since 2000, and real-estate prices are creeping up as well. Coeur d'Alene (pronounced by locals as "core da lane"), located in a remote part of the Idaho panhandle, is surrounded by a national forest and a 30-mile-long lake - but it's only 35 miles from the urban amenities of Spokane, Wash.
Tourism is the biggest local industry, with two major ski resorts in addition to swimming, boating, hiking and camping. Golf has become a big draw: the Coeur d'Alene Resort Golf Course is considered one of the best in the U.S. Its 14th hole features the world's only movable, floating green. -Elizabeth Bland
Interactive map: Coeur d'Alene, Idaho


Find homes for sale in Coeur d'Alene, Idaho


NEXT: 96. Eugene, Ore.

Last updated July 02 2008: 11:16 AM ET
Email
|
Print
|

Digg this story
|

RSS