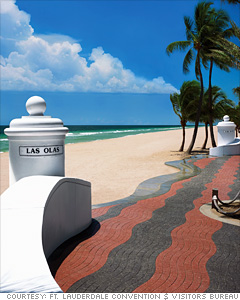 Population:
167,255
Pro:
Strong tourism industry
Con:
This region has been hit hard by the
subprime lending fiasco
Fort Lauderdale has been trying for decades to convince the public that it's not a hub for raucous co-eds on spring break, but, rather, a nice place for families and for business - and it's a valid point.
Sure, the real-estate downturn brought on by subprime lending has taken its toll on the economy, but Fort Lauderdale has felt less impact than the regions in and around Miami. The hottest businesses here are a reflection of the subtropical climate and locale. Pleasure-boat construction and services are a major sector, while the tourism industry, in general, stays strong, thanks in large part to the Canadians and Europeans attracted to the weak dollar. What's more, a 600,000-square-foot convention center plays host to trade shows that bring a variety of industrial leaders from all over the country in contact with local businesses.
Besides the usual pleasures to be expected from a city by the sea (sun, surf, sailing, and swimming), Fort Lauderdale offers a lively downtown, with museums, galleries, live music, theater and fine restaurants. And for sports-crazed fans, there are no less than seven pro teams to root for in the surrounding area. -Peter Galuszka
Interactive map: Fort Lauderdale


Find homes for sale in Fort Lauderdale


NEXT: 71. Missoula, Mont.

Last updated July 02 2008: 11:16 AM ET
Email
|
Print
|

Digg this story
|

RSS