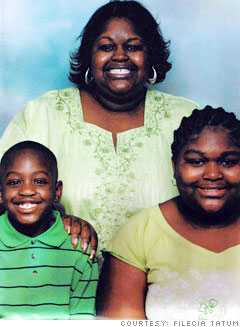 Filecia with her son, Tyler, and daughter, Autumn
Technical support representative, 36, Dallas, Ga.
I am a 36-year-old African American single mother of two. I have worked harder than most to obtain a quality of life for my children to ensure they are afforded opportunities to succeed. As an IT contractor, I have suffered through the loss of job contracts in the past. However, after the abrupt end of a contract in '07, I am still trying to "bounce" back in this economy. I was unemployed for some time, but then found a permanent position making half the pay in an initial job capacity that was not even in my field. I've been faced with a pending foreclosure on my home. I pay over $200 in gas each month and have to choose between buying toiletries or household cleaning products because there is not enough money left in my check to buy both during the same pay cycle. I am spiraling in what seems like a financial abyss. My savings have long been gone, yet all of my old debts still exist with only half of the salary available to pay them. Having to choose between buying a $52 heating element for my stove that has gone out or buying $50 worth of groceries for my family until my next pay day is just really depressing. Or how about choosing between the $47 co-pay for your child's medicine or keeping your water from being disconnected!
NEXT: Bethany Alexander: Pocketbook pinch